NCAA Football Championship Betting: The Case For the Clemson Tigers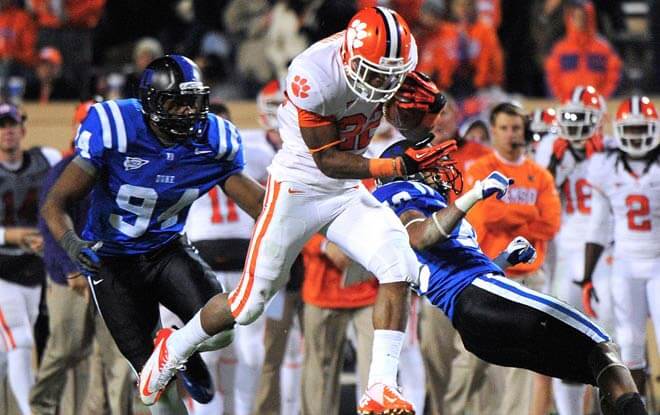 Surely there has been an avalanche of attention and public support surrounding the LSU Tigers. And why not? They have the top offense in the nation as well as the Heisman Trophy winner. After Joe Burrow threw for seven touchdowns in one half of play against Oklahoma, en route to a 63-28 win, bettors may understandably think they are unbeatable.
But is that really the case? Can the Clemson Tigers put enough together to give them a hard time? They are the defending national champions and on a 29-game winning streak. So don't discount the possibility.
The national championship game kicks off at 8 PM ET at the Superdome in New Orleans. And in the odds at BetAnySports, where you can get reduced juice as well as Sports Betting Ultra, LSU is favored:
Clemson Tigers vs. LSU Tigers Betting Odds
Team
SP/RL
TOTAL
ML
Clemson
+5 (-110)
66½ (-110)
+170
LSU
-5 (-110)
66½ (-110)
-200
So what do we have that makes the case for Clemson? Well…….
The National Championship Experience
The Clemson program has played for the national title in three of the last four seasons. And they have beaten Alabama twice during that time. One of those was a thriller where DeShaun Watson led a last-second victory. In the other, they just simply cleaned Alabama's clock (44-16) behind current quarterback Travis Lawrence.
Dabo Swinney has been like hold in post-season action, covering ten of his last 11. Clemson, it should be noted, was a favorite in only two of those eleven games. So if he is projecting the role of the neglected underdog to his players, can't blame him.
They Have the Better Running Back
There are those who would argue that if it wasn't for the fact that there were so many ways to spread the ball around, Travis Etienne would be a Heisman Trophy candidate. He had 1500 rushing yards. And he led the nation with a per-carry average of 8.24 yards. He gets to run behind an offensive line with four seniors and star sophomore Jackson Carman. So it is quite possible that he is going to have a bigger impact than Clyde Edwards-Helarie.
They Have the Better Quarterback
Really? That would sound shocking to some. But the truth is that if Travis Lawrence was eligible for the NFL Draft, he would be the first pick, not Joe Burrow. Lawrence is more of a prototypical NFL QB. And he performs; he shredded 'Bama in last year's title game and has yet to lose as a starter (25-0). Against Ohio State, he showed wheels too, going off on a 67-yard touchdown scamper.
Lawrence, who looks like a surfer, has thrown 201 straight passes without an interception. During that time, he has tossed 22 TD passes. And he led a big comeback against Ohio State, something Burrow hasn't really had to do.
They Have Enough Defense to Slow LSU
Certainly when you suit up against a guy like Burrow, there's a lot to be worried about. After all, he is almost 78% accurate and had 55 touchdowns. But Clemson is perfectly capable of coming up with a game plan. This is a team that ranked second in Total Defense, #1 in Passing Efficiency Defense and third in Sack Rate. They have allowed opposing quarterbacks to complete just 52%. They can do something to take Burrow off his game a little. Whether it's enough is something we'll find out.
BetAnySports keeps you occupied for the big title game, with reduced juice for better odds, not to mention an avalanche of props, and Sports Betting Ultra, which enables real-time wagering… There are plenty of ways to open up an account; use your debit or credit card, person-to-person transfers or the virtual currency of Bitcoin, which is fast and easy with their automated system, and NEVER incurs a transaction fee!