Falcons vs. Vikings 2019 NFL Week 1 Betting Odds and Predictions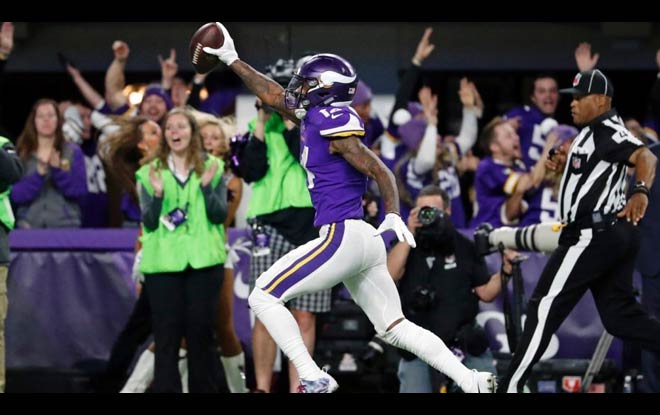 The Minnesota Vikings are 4-point home favorites over the Atlanta Falcons, according to the best betting websites. The Vikes regressed from an NFC North Division championship-winning 2017 season. Kirk Cousins's first year as starting QB yielded an 8-7-1 record (7-7-2 ATS per the best online sportsbooks). As a result, Minnesota missed the postseason for the second time in three years. "If the Vikings are going to have a great season, they need quarterback Kirk Cousins to have a standout year," writes Forbes contributor Steve Silverman. "The belief here is that Cousins has the measurables and the tangible characteristics to at least become a top-10 quarterback, and possibly challenge the league's truly elite quarterbacks."
The Falcons didn't do a whole lot better than the Vikings, though. They finished 7-9 and failed to appear in the playoffs for the first time since 2015. And Atlanta does have, at least on paper, a top-10 QB.
Atlanta Falcons vs. Minnesota Vikings Week 1 Odds
Date: Sunday, September 8
Time: 12:00 pm CT
Venue: US Bank Stadium
Team
SP/RL
TOTAL
ML
Falcons
+4 (-115)
47½ (-115)
 –
Vikings
-4 (-105)
47½ (-105)
–
Betting Atlanta
Users of the best betting websites aren't the only ones sinking cash in the money pit that are the Falcons. During the offseason, the Atlanta brass poured over $80 million on the offensive line alone. James Carpenter, Jamon Brown, Chris Lindstrom and Ty Sambrailo are getting a combined $51.7 million in guaranteed money. Has the Lost City of Atlanta forgotten about World Championship Wrestling? Which was another Georgia-based corporation that dig its own grave by throwing untold amounts of guaranteed cash at its employees. The Falcons are already paying Matt Ryan so much money they had no choice but to restructure his contract earlier this year. Though at least Matty Ice is holding his end on the bargain in passing yards and touchdowns.
"We are not worried about it," Falcons general manager Thomas Dimitroff said. "We are not worried about offending anyone. Managent is not worried about having invested money in certain areas. "We are 100 percent going to do what we thought was best for the team. We had to make sure that we had not only the starters in mind, but make sure that we had depth. If we have situations that we need the depth to step up, we're in a considerably better position than we were last year."
Betting Minnesota
And speaking of guaranteed contracts, "the problem in Minnesota isn't hard to pinpoint," says NFL analyst Gary Davenport. "It's the guy making $56 million guaranteed over the next two years. Kirk Cousins isn't a bad quarterback necessarily. But he's not an especially good one, either—he's a stat padder who has consistently faltered in big games and against higher-end opposition over his career. His contract was an $84 million boondoggle, but there's little the Vikings can do about it at present." The Vikes drafted NC State center Garrett Bradbury to bolster the offensive line. Bradbury did not allow one sack in more than 900 snaps last year.
Expert Predictions for Falcons vs. Vikings Game
Matt Ryan is much, much, much better than Kirk Cousins. Much. Accordingly, the Falcons have invested much more on protecting Ryan than the Vikings on protecting Cousins. Then again, making boatloads of money makes a player rich, not good. And what better example than Cousins himself? Atlanta's 2018 o-line allowed 108 QB hits and 42 sacks. Do customers of the best betting websites believe the Falcons' new offensive linemen will earn they keep? If the answer is yes, then they should go ahead and fade the Vikes.