Chiefs are favored by a touchdown vs. Bengals in Sunday Night Football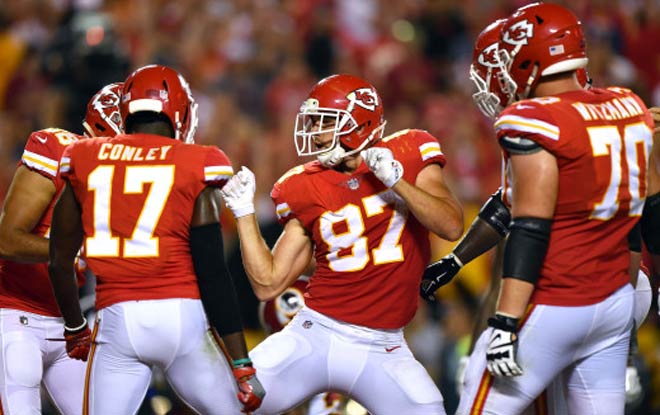 by Anthony Carpenter
October 20th, 2018
Category: Betting News
According to the NFL betting online spread, the Kansas City Chiefs are favored by a touchdown over the Cincinnati Bengals. The Chiefs are coming off their first loss of the season to the only team that could have – and did – stopped their momentum. But Pat 'One-Man Arm-y' Mahomes & Co. have nothing of which to be ashamed. According to the best online sportsbooks, Kansas City covered a 3.5-point spread. Moreover, losing by just three points in Foxboro is a moral victory if there ever was one.
The Bengals will certainly have their hands full with Mahomes. They couldn't get at Big Ben in last weekend's loss to the Pittsburgh Steelers. Compared to that, dealing with Pat will be like Menelaus trying to hold on to Proteus. "That's probably one of the major reasons we didn't win the game [against the Steelers] is just not keeping the quarterback in the pocket," defensive lineman Jordan Willis said. "And skip to this week, Mahomes when he gets out the pocket, that's when he's most dangerous. So if we don't keep him in the pocket, it could be a similar situation to last week."
Betting Bengals
The Bengals lead the league in red-zone efficiency at 75%. The problem is, it appears they can't see very well at night. Cinci is 2-8 SU in their last 10 primetime games. Furthermore, starting QB Andy Dalton is 6-13 against the NFL betting online spread in night games with the Bengals. The Red Rifle has an 81.1 quarterback rating in those 19 games.
Betting Chiefs
In a contrast that's day to night, the Chiefs are 9-3 SU and 10-2 ATS in their last 12 primetime games. In addition to that, Kansas City is 4-0 ATS in their last four October games and 5-0 ATS in their last five against AFC teams. As well as 10-1 ATS in their last 11 overall and 5-1 ATS in their last six at Arrowhead Stadium.
Cincinnati Bengals at Kansas City Chiefs NFL Week 7 Betting Preview
Date: October 21
Time: 8:20 p.m. ET
Venue: Arrowhead Stadium

Odds from MyBookie.ag:
Cincinnati Bengals +6 (-115) 58½ (-110) +218
Kansas City Chiefs  -6 (-105) 58½ (-110) -265
Offense
Points per game: 29.0 (6th)
Total yards per game: 352.2 (23rd)
Passing yards per game: 262.3 (16th)
Rushing yards per game: 89.8 (25th)

Defense
Points allowed per game: 26.3 (23rd)
Total yards allowed per game: 409.2 (29th)
Passing yards allowed per game: 292.0 (28th)
Rushing yards allowed per game: 117.2 (20th)

Kansas City Team Stats
Offense
Points per game: 35.8 (2nd)
Total yards per game: 418.5 (5th)
Passing yards per game: 306.5 (7th)
Rushing yards per game: 112.0 (13th)

Defense
Points allowed per game: 28.7 (27th)
Total yards allowed per game: 468.2 (32nd)
Passing yards per game: 340.3 (31st)
Rushing yards allowed per game: 127.8 (27th)

Betting Trends
Cincinnati is 6-2 ATS in its last 8 games
Cincinnati is 6-2 SU in its last 8 games
The total has gone OVER in 5 of Cincinnati's last 7 games
Kansas City is 5-0 ATS in its last 5 games
Kansas City is 5-1 SU in its last 6 games
The total has gone OVER in 4 of Kansas City's last 6 games