2015 NFL Week 13 Schedule and Betting Odds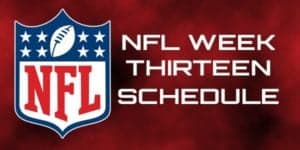 The NFL Week 13 is here and we are getting closer and closer to the NFL Playoffs that will start on Saturday, January 9th, 2016.
The first game for the Week 13 is between Detroit Lions versus Green Bay Packers on Thursday, December 3, 8:25 PM at Ford Field, Detroit, Michigan.
After a very disappointing loss against Chicago, the Packers are the favorites on this match, top sportsbooks are already showing Green Bay as -3 (-120) points favorites and the total of the game is set at 47.
After the Thursday Night Football we will see a very interested week of NFL.
The Jets are playing against the Giants on Sunday, December 6, 1:00 PM at MetLife Stadium, East Rutherford, New Jersey.
This will be an ok game, since both teams are doing a very mediocre regular season.
Sportsbooks have the New York Jets as -1-point favorites against the Giants and the total of the game is set at 45.
If we continue with the rest of the games one team that did a very good game this weekend was the Broncos against the Patriots, the Broncos take down the great season of the Patriots winning 30-24 in overtime.
This was something amazing for Brock Osweiler and the rest of the team, that's why now all major sportsbooks are taking the Broncos as favorites for the Week 13 game against the Chargers. The currently line is Broncos as -4.5-point favorites and the total of the betting game is set at 43.5.
The Sunday Night Football game for the NFL Week 13 is between the Indianapolis Colts and the Pittsburg Steelers, the betting lines are not available at the moment.
Monday Night Football Game will be Dallas Cowboys versus Washington Redskins the Redskins are the top sportsbooks favorites for this match, the line is Redskins -4-point favorites and the total of the game is set at 42.
Full NFL Week 13 Schedule and Betting Odds:
Thursday, 3rd December 2015
Green Bay Packers: -3 (-120) Over 47 (-110)
Detroit Lions: +3 (EV) Under 47 (-110)
Sunday, 6th December 2015
Atlanta Falcons: +2 (-110) Over 46 (-110)
Tampa Bay Buccaneers: -2 (-110) Under 46 (-110)
New York Jets: -1 (-115) Over 45 (-110)
New York Giants: +1 (-105) Under 45 (-110)
San Francisco 49ers: +7 (-120) Over 43 (-110)
Chicago bears: -7 (EV) Under 43 (-110)
Cincinnati Bengals: TBA
Cleveland Browns: TBA
Jacksonville Jaguars: +2½ (-105) Over 43 (-110)
Tennessee Titans: -2½ (-115) Under 43 (-110)
Houston Texans: +3 (EV) Over 41½ (-110)
Buffalo Bills: -3 (-120) Under 41½ (-110)
Baltimore Ravens: TBA
Miami Dolphins: TBA
Seattle Seahawks: -1 (-105) Over 41½ (-110)
Minnesota Vikings: +1 (-115) Under 41½ (-110)
Arizona Cardinals: -5½ (-110) Over 43 (-110)
St. Louis Rams: +5½ (-110) Under 43 (-110)
Denver Broncos: -4½ (-110) Over 43½ (-110)
San Diego Chargers: +4½ (-110) Under 43½ (-110)
Kansas City Chiefs: -3 (EV) Over 44 (-110)
Oakland Raiders: +3 (-120) Over 44 (-110)
Philadelphia Eagles: TBA
New England Patriots: TBA
Carolina Panthers: -7 (-105) Over 49½ (-110)
New Orleans Saints: +7 (-115) Under 49½ (-110)
Indianapolis Colts: TBA
Pittsburg Steelers: TBA
Monday, 7th December 2015
Dallas Cowboys: +4 (-110) Over 42 (-110)
Washington Redskins: -4 (-110) Under 42 (-110)