New York Mets victory of 3-2 over the Los Angeles Dodgers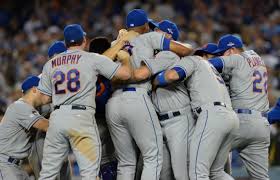 Daniel Murphy pushed two runs and scored three, the last one with homer broke a tie in the sixth inning to lead the New York Mets to a victory of 3-2 over the Los Angeles Dodgers and they are going to the  final for the title of the National League.
The Mets won 3-2 first-round series, and for the first time since 2006, advanced to the final for the league championship, to be played against the Chicago Cubs.
The Dodgers, with a payroll of $238 million-the highest wages in the Major League baseball-failed for the third time to advance to the final of the NL.
The betting game was planned as a duel between starters Zack Greinke by Los Angeles and Jacob DeGrom for the Mets, who marched tied 2-2 until the sixth inning, when Murphy caught a changeup pitcher Angelino to deposit the ball over the right side fences, with the race that ultimately decided the victory.
Jacob deGrom (2-0), who won the first game of this series on Friday, won his second win at spaced six hits and two earned runs in six innings, in which he distributed seven strikeouts and three walks.
Zack Greinke (1-1) took the loss, allowing six hits and the three earned in 6 2/3 notes episodes.
Now Zack Greinke is thinking in his future and probably will opt out of a contract that he has of $71 million and get some new offers that has on the table, some of the offers are between $147 million to 4150 million. Good luck Zack.
The Mets released the first board in the same inning to tie infield single leadoff hitter Curtis Granderson and Murphy tripled to deep center.
The Dodgers went ahead 2-1 with two runs in the top of the second frame, with RBIs for Tuner and the Mexican American Andre Ethier.
In the fourth inning, Murphy singled to right, advanced to second base on balls after Lucas Duda and stole third for neglect of the blue defense that left unprotected third.
Then, Travis D'Arnaud hit sacrifice fly to right, which opened the door to Murphy plate with the draw and so began to develop his feat.